England's bowlers lacked guile in T20I defeat to New Zealand, says David Lloyd
Last Updated: 13/02/18 12:02pm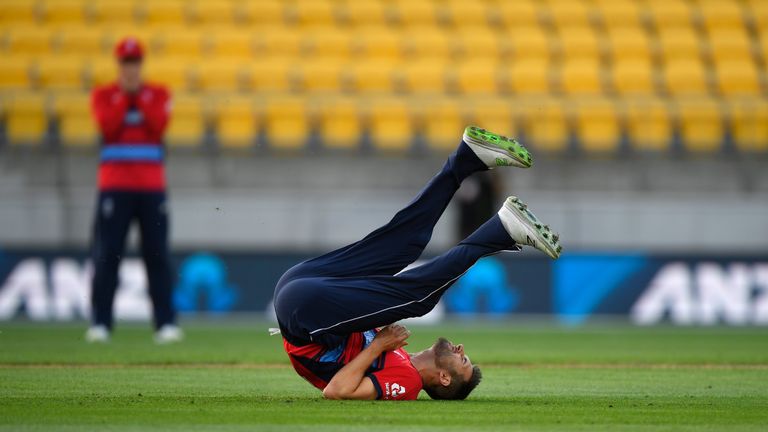 David Lloyd believes England's bowlers lacked "guile" as they were beaten by New Zealand in the latest game of the T20 Tri-Series.
The defeat was England's third in as many games in the tournament as they came up 12 runs short in their chase of 197 in Wellington.
Lloyd believes New Zealand had better bowling plans and urged England to use part-time bowlers such as Dawid Malan and James Vince to give opposition batsmen something different to think about.
"England played Liam Plunkett and Mark Wood and said, 'we're going to hit you with pace'," he said. "It wasn't really the thing to do, it's not what was required.
"They need to have a lot more guile. England bowled a lot of length balls, they were not the thing to bowl on there, it was a good pitch.
"New Zealand's plans have worked, they won the game. Let's have a look at what they had with the bowling: a leg-spinner, a left-arm spinner, Colin Munro - dobbers, Colin de Grandhomme - dobbers.
"England went with pace: Chris Jordan, Plunkett, Wood, David Willey - it doesn't work, you've got to have a little bit more guile.
"Do England have that valve bowler? Well, they've got Malan who bowls a bit of leg-spin and you don't have to be good to bowl leg-spin in T20, they've got Vince, who can bowl Munro dobbers. They need to think a little bit more.
"I think there is depth but looking at this game in isolation, a lot more thought [was needed]. I can't get away from the plans, I think New Zealand have planned well for this game on this pitch.
"Munro has just bowled dobbers - his first over only went for three! - and you're not telling me the leg-spinner (Ish Sodhi) is the best in the world - half-trackers, hit it straight to deep midwicket. You can bowl Malan in these, I promise you. Get him on, bowl him for an over!"
England must now hope Australia beat New Zealand on Friday and have to beat the Black Caps themselves on Sunday - both games are live on Sunshine Golf Cricket - to have any chance of reaching the Tri-Series final.